Winter Dive Reports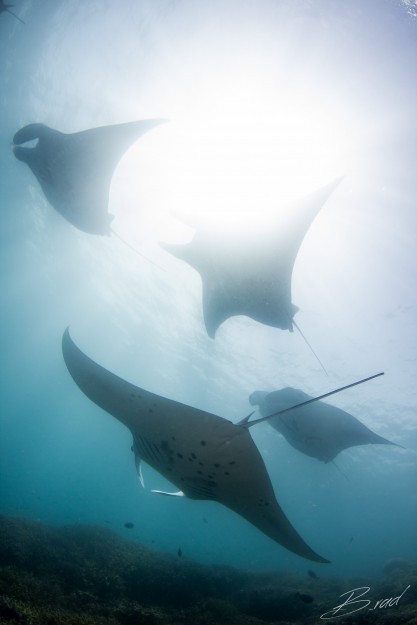 It's manta diving season in full swing.
Today I volunteered some bottom time to Julie Hartup's research on Micronesia's mantas by being her lens in the field.
There's a couple of things in particular that are on her radar – specifically two pregnant mantas, as well as  status updates on the cleaning station locals.
Wintertime research is easy, the mantas are here in large numbers and are interacting… it's the season for Yap's dancing mantas.
As the data stacks up scientists are able to look into the lives of these animals.
We're expecting a baby manta soon. This pregnancy was first identified by mating scars on the individual a year ago, and finally she was showing in her ID shots, now "Munzinger" is gliding the lagoon looking ready to pop.
We're waiting to see these females with normal profiles and then hopefully an encounter with a meter-wide manta that will join the database and we can watch it grow up. Mating scars from this year on other females are also good signs for Yap's mantas.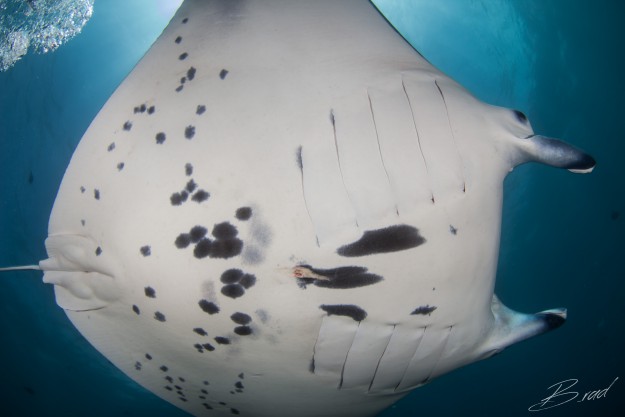 One thing we learned at the science workshops during Manta Mania was to look for signs of local threats, such as fishing nets and shark injuries.
Consistency with the manta ID photography helps track the lives and the condition of our mantas – shown here is a manta with a small injury still healing on it's markings.
Days like these are the full-promise manta experience. On the surface interval guests were raving about a ball of mantas dancing in the blue just before the boat in three languages.
On dives like these, you're ducking mantas. Boys, girls, pregnant ones, and soon, a baby.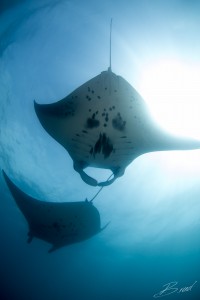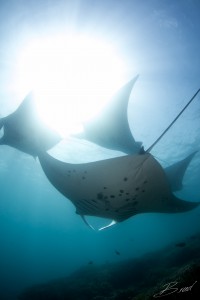 The value of data is accumulative. Each time a ray is sighted, ID'd and indexed into the database a conservation and management tool is strengthened. Photographers can help researchers by providing a belly shot with a location and time/date stamp then emailing it to manta-id@mantaray.com.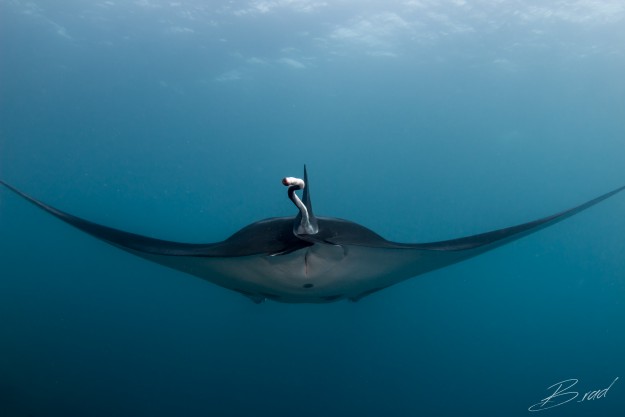 Get Involved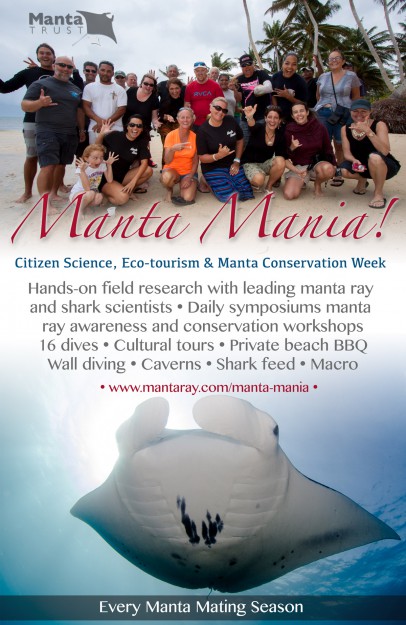 To learn more about Yap's mantas, sharks and marine mammals as well as an opportunity to perform research, check out next year's citizen science symposium and media party – Manta Mania.
We are finalizing the list of presenting scientists and upgrading the symposium package with a cultural tour.
Divers are learning from the region's leading scientists on big animal conservation, diving the best sites Yap has to offer, enjoying the Island's beaches at private parties, attending daily workshops on how these animals are being protected and learning how this kind of research plays a critical role in marine conservation.
Julie Hartup's research and the Yap manta project was instrumental assisting the local EPA in creating a management plan and drafting legal regulations for the original 2008 sanctuary laws protecting these animals.
Join the fun, join the research and learn how your dive can help conserve a precious resource.