Manta Ray Rockstars
Here's three of our manta party scientists who you can ride shotgun in the office with this February. Julie, Ana and Mark will be hosting the citizen science symposium and managing field research assignments as well as be your workshop and media presenters.
This going to be more than mantas – the event's itinerary includes 16 dives, night, shark feed and madarinfish specialty dives, a private beach bbq, cultural tour and is going to be a week-long party with cool people from all over the world on a 110 year-old schooner every night. The word is a round of tidal waves will kick things off at the welcome meeting.
---
Julie Hartup
"This is an rare opportunity for divers to dive with manta rays together with the scientists who study them. You'll get to see the type of equipment we use, how we gather information and how its processed. We planned this event to take place during manta mating season, the most active time of year where close interaction with multiple animals is nearly assured – we are hoping to get a lot of valuable information. During the day you'll dive with mantas and over the pristine reefs surrounding Yap, in the afternoon you'll attend workshops to learn about megafauna, and in the evening you get to see pictures of these amazing animals. Not only will you be learning about mantas but also their very close relatives the mobula, sharks and other marine mammals. We hope everyone will come away from this experience awed by the ocean and its creatures with a deep appreciation for Yap and love for it's people and culture."
---
Ana Filipa Sobral
Ana left to start her Msc in Integrated studies of the ocean in the University of the Azores. Since then she has been studying Mobula tarapacana aggregations in the seamounts around the Azores. For that, she has been collecting data with the help of dive operators and also started the project 'Manta catalog Azores' the first ever attempt to build a photo-ID database for a Mobula species. Ana just finished her internship in the Institute of Marine Research of the University of the Azores and her future plans involve starting a PhD study, preferably involving Mobulid species.
---
His chosen career working in wildlife biology and marine research is an extension of his passion for the natural world and his marvel of the ocean environment. Following his masters degree studying humpback whales, Mark was only the second person in the world to get his doctoral degree studying manta rays. Field research techniques include photo-identification, photogrammetry, and acoustic tagging. Currently the executive director and chief scientist for the Hawaii Association for Marine Education and Research, a not-for-profit organization dedicated to protecting manta ray populations and their habitats. Mark's primary focus is developing a management plan for Maui's manta rays but has worked collaboratively with other scientists and NGO's in Palmyra, Guam, Yap, Ulithi, and Pohnpei.
Hawaii Association for Marine Education and Research 
---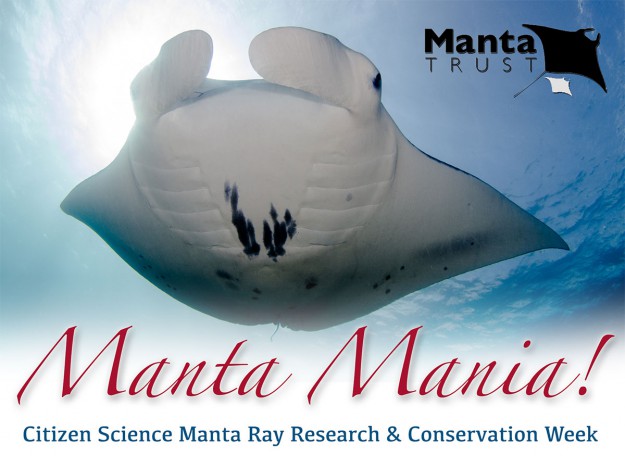 Manta Mania will be a unique opportunity to be a participate in research and conservation of our ocean's megafauna.