Orcas Crash Manta Fest 2009
Today is Monday which normally most people refer to as "Blue Monday" but not here at the Manta Ray Bay Resort & Yap Divers.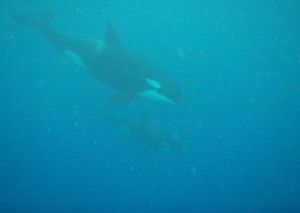 Manta Fest is entering its second week and we certainly started with a bang.  A pod of 4 Orcas was spotted off the east coast and away we went (Jan, Andrew, Patricia, our driver Mathias and myself).  Sure enough, a bull, cow and 2 calves stayed with us for quite some time.  In fact, they stayed with our boat long enough for the Manta Fest boat to join us and I am hoping that Andy Sallmon and Daniel Brinckmann come back this afternoon with some nice underwater shots to supplement what Jan and I got with our point and shoot cameras.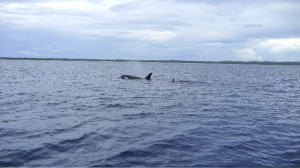 Tonight will be the first big outdoor presentation of last week's best shots.  The crew have some fantastic Mandarin Fish shots from probably one of the best Mandarin Fish evenings we have ever seen.  According to Andy, there were pairs of fish up and down the entire reef.  Hundreds of individuals for our intrepid camera folks to shoot."