Hotel Staff
See our Employment Opportunities page for more information for open positions at the Manta Ray Bay Resort.
Jessica "Numie" Acker – General Manager
We are proud to announce that Numie will be our new General Manager! Numie has served as our Hotel Manager and HR person for the past 10 years. It is only natural that she is our new General Manager with our "keeping it in the family" model.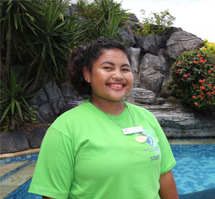 Jenesha 'Lee' – Front Desk Receptionist/Concierge
Lee is the youngest of the front desk team, being born on the 26th of November, 1995, but she has had a taste of the outside world having studied in the United States at the Pine Forest High School in North Carolina then did a year of college before deciding to spend some time on her home island. Having missed out on high school life in the islands, Lee is making it up by being a driving force in the local Youth Council and an advocate for higher learning for Yap's youth.
Lee will be one of the first smiling faces amongst many that you will see once you land in Yap and she will be more than happy to share stories of her beautiful island with you.
Favorite Saying: "A rainy day in the tropics is a great way to spend time with newfound friends."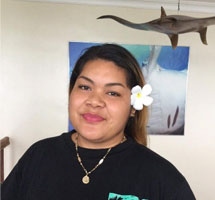 Jamori Rikrik – Purchasing Officer
Born in Yap on the 23rd of August, 1992. Jamori or Jam, as most people call her, graduated from Yap High School before moving on to Palau to attend community college. Upon her return to Yap, she was quickly swiped up by the resort based on exceptional character references and work ethic, which has proven to be a great decision.
Jam is an integral part of the company, keeping everything in line from our storerooms, to inventory, to reminding Bill of his latest purchases for the resort.
Favorite Saying: "Taking one day at a time eases stress"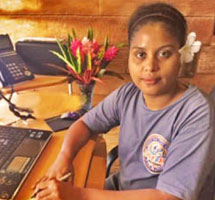 Patricia "Patie" Pitmag – Reservations Officer
Born on the 10th of August in the year 1990 at the Yap Memorial Hospital. Patie is not just a member of the Manta Ray Family but also to the Acker Family as she is the wife of Oliver "Op" Acker and the mother of Bill and Patricia's youngest set of grandkids, Orion Michael Yowfal "OO" Acker and Taliyah Taylor Mangthin "TT" Acker.
After graduating from Yap High School, Patie continued her educational career at the local community college, College of Micronesia, before moving on to get her bachelor's degree in Business Administration from the University of Hawaii in Hilo in the year 2016. She has since then become a wife, mother, and career woman as our reservations officer.
Favorite Saying: "If the plan doesn't work, change the plan not the goal"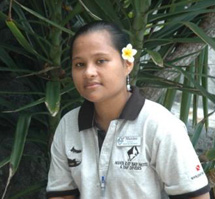 Maxine Bamlul – Front Desk Receptionist
Born in Yap on the 9th of October, 1988, Maxine is a city girl in Yap being a native to Colonia, Yap's town center and 'metropolitan' area of the island. Maxine graduated from Yap High School in 2006 and moved to Guam to attend the University of Guam, majoring in Education. She returned in 2009 and worked at the Yap State Legislature as an administrative assistant. Maxine then wanted to expand on her career by trying out a different field which she did in 2011 when she came on board as one of our youngest receptionists.
Maxine is usually the first cheerful voice you hear in the morning when she gives you a wake-up call to go along with your complimentary coffee or tea.
Favorite Saying: "I enjoy working at the Manta Ray Bay Resort because of the family-oriented atmosphere. I especially enjoy showing off my local knowledge to our guests."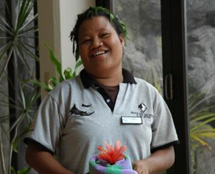 Callista "Cally" Fanapin – Front Desk Receptionist
A native to Yap, born on March 21st, 1980, and a resident of the Gagil Municipality, Cally has been with the company for ten years. After completing an Associate's Degree in Computer Information System from the College of Micronesia, Cally did a short stint as a bartender/waitress at one of the local establishments then made the important move to the Manta Ray Family in 2002. She started out in the Manta Ray Boutique as our sales clerk and quickly worked her way to being one of our star employees as a receptionist.
Cally will greet you when you first visit us and she will be more than happy to make your stay the best in Micronesia.
Favorite Saying: "I love my job because I get to meet so many different people from around the world and I love telling them about my beautiful island and culture."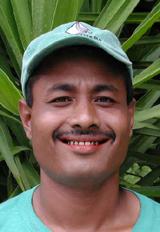 Theophilus "Theo" Gumang – Concierge
Born in Yap on the 7th of August 1969 and graduated from Pohnpei Agriculture & Trade School (PATS) and began working for Continental Micronesia as a flight attendant for a year and a half. Began working with Bill Acker at WAAB Transportation as an insurance salesman. Moved from the insurance office to the accounting office and then moved to the hotel full time in August of 1993.
Theo trained in Japan for 2 months in 1994 as a concierge and has continued to learn the hospitality industry from the ground up. Theo will be one of the first people you meet as you arrive in Yap and he will personally ensure that you have a safe and enjoyable trip to the hotel. There is no one in Yap better at conducting historical tours as is evidenced by the warmth shown Theo from our guests. Very knowledgeable, honest and articulate, he is one of the key people at the Manta Ray Bay Hotel & Yap Divers.
Favorite Saying: "Meeting people and making new friends is very important to me. Working for the best-dedicated dive resort in Micronesia gives me plenty of opportunities. I honestly look forward to every new day at the resort as you never know what will happen."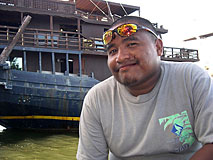 Richard Falow – Concierge
Born in Yap on the 10th of October 1978 and graduated from Yap High School in 1996. Attended the Japanese Agricultural School in Palau and graduated in 1998 with an Associate Degree. After school, Richard moved to Japan to continue his Agricultural schooling at the main campus. Upon returning to Yap in 2000, Richard found a job in the hospitality industry and worked with Trader's Ridge & O'Keefe's Bar. In 2004, he moved up to the Manta Ray Bay and has worked as a Concierge since then. Fluent in English, Japanese, and of course Yapese, Richard is an invaluable part of our team and one of the first people you will meet when you get off the plane in Yap.
Favorite Saying: "I especially like the tour guide part of my job because I enjoy meeting people and I really take pride in my island and our culture which I am very happy to share with each of my guests."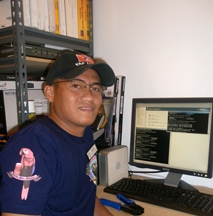 Jude Pedrosa – IT Manager, Communications Specialist and Pool Engineer
Jude, son of Teolu, brother of Louisa, and husband of Leslie, was born on the 21st of April 1979 in Iloilo, Philippines, and graduated from CAIC High School. After high school, Jude went to Our Lady of Fatima University where he graduated with a Bachelor of Science degree in Computer Science. After college, Jude began working at Montana Crystals (bottled water) as Operations Manager and from there he moved across the Philippine Sea to Yap and the Manta Ray Bay Resort in September of 2004. His wife and young son MJ joined him in 2007.
Favorite Saying: "There is no such thing as hard work as long as you enjoy what you are doing."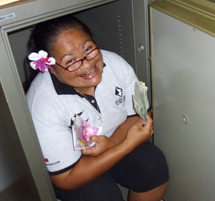 Carmen "the Money Lady" Mangefel – Corporate Controller
Born in Yap on the 11th of October 1970. Graduated from Xavier High School and graduated from Guam Community College. Attended the University of Guam for 2 years before returning to Yap. Began working at the Manta Ray Bay Hotel & Yap Divers in April of 1996 and am known throughout the organization as one of our very best employees.
Key Words: Cool, suave, and sophisticated with a disarming smile sum up Carmen pretty well. She will know your name once you have been here for a few hours and she will help you with anything during your stay with us.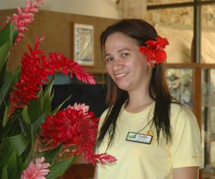 Leslie Pedrosa – Gift Shop Clerk and Pedicurist/Manicurist
Leslie is a native to Iloilo, Philippines, and is married to our IT Manager, Jude Pedrosa, She was born on September 8, 1980. After moving to Yap in 2007 to be with her husband, Leslie wanted to occupy her time while their son MJ is attending school, and we needed a clerk for our Manta Ray Boutique, and solo and behold a deal was struck.
She is more than happy to help you find the best souvenir to take back home or enhancing your Yap experience with a pedicure or manicure at our Taro Leaf Spa.