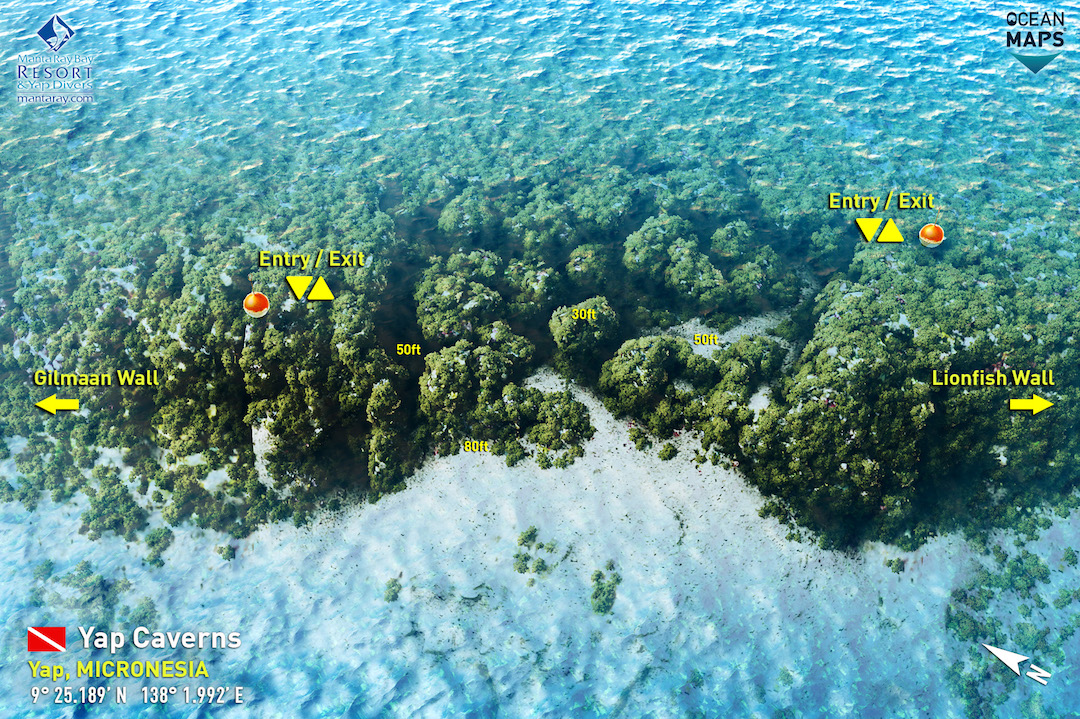 Yap Caverns
The southernmost tip of the island offers divers the most diversity of life and interesting topography where divers swim through the reef with life big and small.
Yap Caverns amphitheater is one of Yap's best environments for macro subjects at every depth. Porcelain crabs, moyers dragonettes, nudibranch, leaf fish, scorpion fish, antheas, flame angels, cleaner and ghost shrimp as as well as more exotic subjects such as ghost pipe fish and ornate ghost pipe fish reside at this site.
Photography: Wide Angle or Macro
Dive Plan: Static or drift dive at slack tide with cavern and wall diving for ~90 minute bottom time with a swim through tour
Conditions: 3m/10ft to 30m/100ft depth with swim through caverns two wall dive options rock pinnacles with a white sand bottom
Wildlife: Schools of fish, reef sharks, macro subjects, moray eels / reef fish, large pelagic fish, cleaning stations, bump head parrot fish
Visibility: 40-100+ ft | 12-30+ m
Current: Usually none
Yap Caverns is home to the richest reef and wall diving offering the strongest diversity at any single dive site. Whitetip and grey reef sharks, abundant coral, pelagic fish, schools of bumphead parrotfish, eagle rays, turtles, scorpion leaf fish, dragonettes, blennies with cleaning stations for sharks, eels, and big fish, year-round.
Dominant features
A network of caverns and canyons notched out of the coral wall. Large coral outcroppings in the shallower sections are honeycombed with narrow chasms and chimneys large enough for divers to explore. Skylights in the caverns send shafts of sunbeams down into the depths.
Corals
Varied hard coral walls honeycombed with crevices and fissures, some of which rise up to openings inside on the lagoon floor. The vertical walls are rich in soft corals.
Fish Life
Whitetip reef sharks are often found resting in the sandy bowls within the crevices. Expect a wide variety of reef fish and schooling pelagics. Sometimes schools of fifty or more huge Parrothead Humpbackfish are found outside the caverns. At the bottom of the outer mini-wall, Gray reef sharks are frequently seen. Morays and Stingrays are often seen near or within the caverns. Large schools of Tuna & Amberjack heve been sighted off the entrance. Lionfish abound.