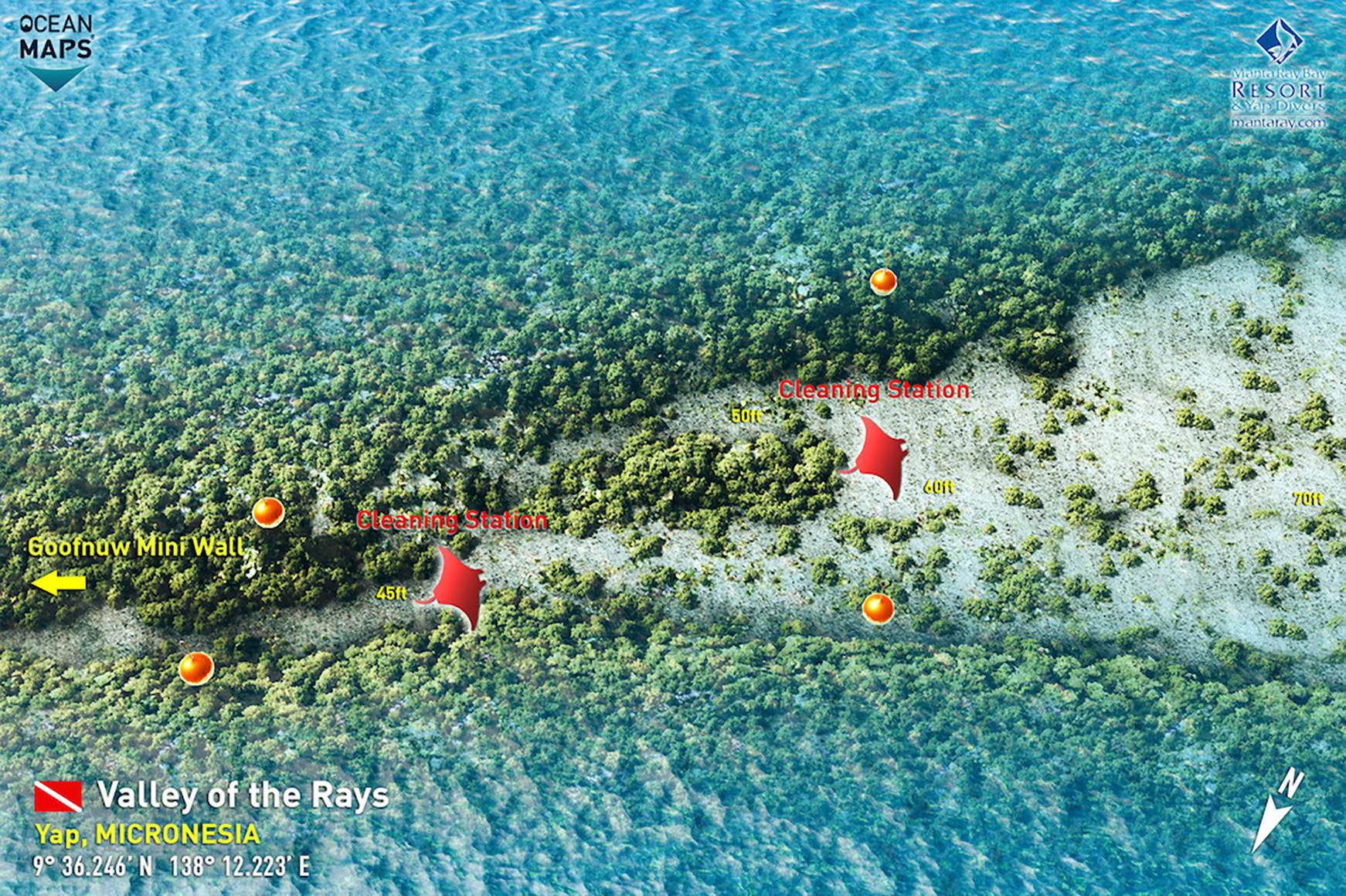 Valley of the Rays – Manta Dive
Depth: 50-70 ft | 15-22 m
Visibility: 30-80 ft | 9-25 m
Current: 0-4 mph | 0-6 km/h
Dominant Features
Coral outcroppings rising from the sandy bottom of the channel serve as Manta cleaning stations. The Mantas hover over the coral heads & allow cleaner wrasse and other species of small reef fish to pick off parasites.
The center of the Valley is dominated by a huge formation of lettuce coral called the Merry-Go-Round which is the largest of the Manta Cleaning Stations. On the north side of the channel (Maap Side), another smaller formation of lettuce coral serves as another cleaning station called the Carwash. About 20 Meters east of the Carwash is Manta Rock, a large coral pinnacle that rises to within 33 ft. (10 M) of the surface and is the third cleaning station located in the Valley of the Rays. This tall outcropping also offers divers shelter from the current when the tide is strong.
This area is usually dove from moorings on the south side of the channel (Gagil Side). If the tide is slack, the boat stays at the mooring until you return. If the tide is running strongly, you begin the dive at the current mooring and exit at the down current mooring to avoid a tiring swim. The current can be very strong here at times, especially near the outer cleaning station where the channel is slightly narrower and shallower. Make sure that you stay in the areas that the dive guides position you in. They will place you to get the best view without blocking the Manta's approach to the cleaning station. Stay low, and avoid touching any of the live coral.
Corals
Beautiful variety of antler and table corals on the top edge of the channel. The center of the channel features a very large formation of lettuce coral.
Fish Life
Mantas are the primary attraction at this site. They enter the channel in the morning to be cleaned after spending the night feeding in the open sea. When the tide is running, they will hover motionless over the cleaning station while small wrasse and other species pick parasites from their skin, and inside their mouths and gills. When the tide is slack, the Mantas slowly circle over the cleaning stations and allow the small fish to groom them.
Sometimes several Mantas will be circling in a holding pattern much like airplanes at a busy airport. It is common to see several White Tip Sharks along the bottom of the channel. Large pufferfish frequent the sandy bottom of the channel. Octopi are sometimes seen both in the shallows at the edge of the channel and on the bottom near the outer cleaning station. While waiting for Mantas to show up, keep your eyes peeled because the channel is filled with all sorts of marine delights.