Paul Tzimoulis & Geri Murphy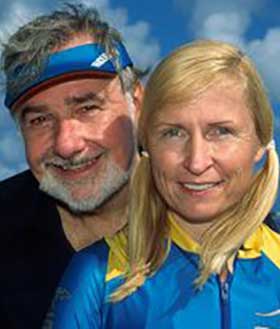 Paul Tzimoulis is regarded as one of the founding fathers of the recreational diving industry in the USA, as well as a significant influence on diving worldwide. As Publisher and Editor of the world's largest and best read diving magazine, Skin Diver Magazine, he has had a profound influence on the sport. He guided every field from equipment development to training, safety, diving certification, travel, and technique. His provocative editorials, stimulating articles, and incredible photographs have done much to elevate the quality of SKIN DIVER Magazine and diving in general.
Paul devoted his entire life to a career in diving. He began snorkeling and free diving in the freshwater lakes of Connecticut while still a high school teenager. Tzimoulis purchased his first regulator in 1955 and quickly became a scuba instructor, dive club president, dive shop owner, and early commercial diver.
In 1960 Tzimoulis joined U.S. Divers Co and became Customer Service Manager. The following year he was employed at Sportsways where he served as a sales rep for the entire eastern United States.
In 1964 Paul accepted a position at the New York office of Petersen Publishing as Sales Representative for Skin Diver Magazine. Two years later, Paul became Editor & Publisher of the magazine, relocated to California, eventually becoming Group Publisher and Vice-President.
Paul was Publisher of Skin Diver Magazine for almost 35 years, generating hundreds of articles and photographs, developing a small obscure publication to a mega powerhouse magazine that became the largest diving magazine in the world. He lived a lifestyle that most divers can only imagine. Visiting tropical dive resorts in the Caribbean & Pacific, he was "living the dream." Paul was a prolific writer, lecturer, photographer, and teacher. He also co-authored a book on underwater photography entitled Camera Below in 1968.
In 1964, the International Underwater Film Festival held in Santa Monica, California acclaimed Tzimoulis as, "the brightest young meteor on the horizons of diving's future." At this prestigious Film Festival, Tzimoulis was awarded a "Special Tribute" for his documentary filming of the Hannes Keller 1,000-foot deep dive.
He founded and was Executive Director of the First International Underwater Film Festival held in New York City, held in February 1965. For the next 30 years, Tzimoulis helped organize similar events in Philadelphia, Washington, D.C., Boston, and Chicago.
After Paul retired from Skin Diver Magazine in 1998, he accepted the position of Publisher of Sport Diver Magazine until 2003. He was Master of Ceremonies of countless underwater film festivals. In his free time, Paul taught underwater photography, ranging from destinations from Hawaii to Bonaire. He launched a revolutionary one-week u/w photo school based on San Salvador Island, Bahamas. Graduates of these classes have gone on to become photo professionals, photo instructors, and winners of many u/w photo contests.
During more than five decades of his contribution to diving, Paul Tzimoulis has received more than 50 awards from the diving industry dating back to 1957: the Diver Of The Year Award presented by the Boston Sea Rovers (1966); Honored Photographer from the International Underwater Film Festival (1968); the NOGI Award For Sports from the Academy of Underwater Arts and Sciences (1969); Hall of Fame Undersea Photography Award, Hawaii (1971); Oceanus Award – Our Future In Depths Arts Award (1977); Underwater Photographic Society Outstanding Achievement Award (1978); Sir Turtle Award from the Cayman Islands Department of Tourism (1983); SSI Platinum Pro 5000 Diver; Reaching Out Award and induction into the DEMA Hall of Fame (1997); PADI Outstanding Achievement Award (1998); induction into the International Scuba Diving Hall of Fame (2001); and many others. Paul Tzimoulis & Geri Murphy-Tzimoulis worked together since 1975.
Paul J. Tzimoulis – 1936-2003
GERI MURPHY
Geri began her career as a teenage, sport diver in the late 1960s, diving off the New Jersey coast, exploring and recording images of shipwrecks and sea life. New Jersey wreck diving is a hard way to learn to be a diver, but it set the stage by preparing her for the rest of Geri's dive career. By the time Geri was 21 years old, she was an active YMCA and NAUI dive instructor. She eventually turned her interest to the Caribbean, where she was the first to photograph and document 'Stingray City', the name she coined for what is now a world-famous dive site in the Cayman Islands.
Geri has had an impressive career in Hollywood, working on underwater films. In 1973, she joined the crew for the production of the theatre release movie Sharks Treasure. In 1975 she was the underwater Script Supervisor and Safety Diver for Hollywood stars Nick Nolte and Jacqueline Bissett in the award-winning epic The Deep. In addition to films, she worked on television productions that include Man From Atlantis (Patrick Duffy) and Switch (Robert Wagner).
Geri spent 30 years diving around the world with her husband, Paul Tzimoulis, who was Publisher and Editor of Skin Diver Magazine. Together they covered such unique activities as shark tagging contests, congregating manta rays, encounters with dolphins, liveaboard cruises around the world, shipwreck search, and shark feeding.
Geri is the world's most published female u/w photojournalist with more than 200 magazine cover shots gracing such magazines as Skin Diver, Sport Diver, Aquarium, Texas Flyer, Sub-Aqua, Mundo Sommerso, Peterson's Photographic, and many others.
Geri has written two PADI underwater photography books: Camera Basics & Equipment Care, Macro Photography & Wide Angle Photography. She authored hundreds of underwater photography articles, dive resorts, photo & dive equipment products, and photo how-to features.
She has been the recipient of many awards for her writing and photography, including induction into the NOGI Diving Hall of Fame (2001); the Women Divers Hall of Fame (2001); the International Scuba Diving Hall of Fame (2009), and the SSI Platinum Pro 5000 Diver, among others.
Website: www.gerimurphy.net
Bill Acker:
When I began Yap Divers in 1986, there was only one way to attract divers from around the world and that was Skin Diver Magazine. From the very beginning, we took out a small advertisement to announce that Yap now offered diving. Then one day I was contacted by the magazine asking if I would be able to show the MAN himself (Hall of Fame dive pioneer – Mr. Paul Tzimoulis) around Yap. Thrilled to have this opportunity (in reality Paul and Geri were on a trip to Palau and thought they would spend two nights in Yap on their way back), I immediately accepted and began to prepare for their arrival. The Manta Ray Bay Hotel was not yet even a dream at this time so they stayed at my house where Patricia and I did our best to be good hosts. I think I can honestly say for all of us, this trip changed our lives. There is a seemingly never-ending stream of stories coming out of this first visit.
Here's the first. A bit of background to get us to the airport a little after Noon on this beautiful tropical day. Several days earlier a very good friend sent me audio tapes of a Best of Rock n Roll countdown from a New Orleans radio station. I had been listening to these tapes every time I drove my truck. By the time I reached the airport to pick-up, Paul and Geri, I was on the number 6 best song – having begun at 100. There was still The Doors' Light my Fire and Led Zeppelin's Stairway to Heaven and obviously 4 more to go. I didn't say anything but the radio was playing on the drive to town and I asked if they minded the music blaring, which they said they did not. When we got to the last turn that would take us to the dive shop, I was on song number 4. I asked them if they minded riding around the lagoon again so that I could finish the countdown and see what this station thought the best Rock n Roll song of all time was. By now, they were into this a bit and thus agreed. Well in the final 4 were my two songs but strangely the best Rock n Roll song of all time was one I would have never guessed: Bill Haley and the Comets' Rock Around the Clock.
The most important person in the dive travel world, in my truck with his wife and here I ago driving around the lagoon twice to finish something that I had on tape. Told me the kind of people they were and told them who I was and it has been love ever since. Sadly Paul is no longer with us but at least we still have Geri. Visit Yap and I will tell you a few more stories from that first visit.