Manta Mania Party Report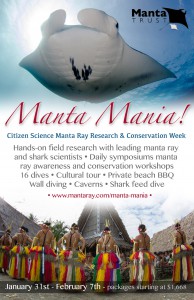 The first annual Manta Mania event brought a group of people together for a very special dive package and big animal citizen science symposium.
This was a completely custom itinerary that included three-tank dive days with daily workshops on how our ocean's megafauna are connected to us in the world we share – designed to deliver the best of Yap experience in and out of the water in an eco-tourism, conservation and citizen science package.
It turns out that learning about marine ecosystems, science and conservation during a dive week with fresh brewed beer go well together.
Eco-tourism and Conservation
Each day was planned to combine the day's diving, workshops and getting to know Yap. Yapese traditional conservation methods are still practiced in the modern lifestyle and is the reason behind the success of Yapese people.
We learned about "nature integrated technology" through the ancient tools used by Yapese people who worked with nature, and each other, in cooperation providing sustainability on a small island with limited resources.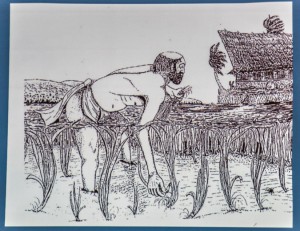 The science component started with Margie Falanruw, director of the Yap Institute of Natural Science, who introduced us to local knowledge and traditional conservation methods.
Interesting depictions illustrated how almost all of the land is sustainably used by the Yapese, including the reef, all the way out to the blue water.
Citizen scientists kicked off with getting to know the environment that will be our host for the week and moved on to modern techniques used by our presenting scientists.
Yap is where manta ray tourism started and it has the first government to establish a sanctuary for mantas. It's one of the few places in the world where everyday you can go dive with manta rays. It's also a field research office for Julie Hartup with Manta Trust who is the Micronesian and Marianas project manager and leading scientist for this region.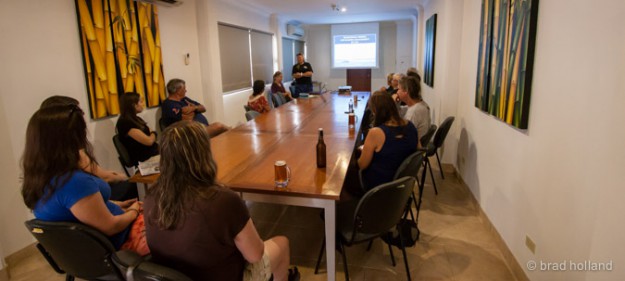 Julie's work has been targeting manta behaviors and finding out where they go to feed, clean, mate, give birth and why. Critical data is cataloged to learn about these resident populations of Micronesian mantas in order to protect them.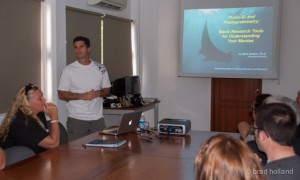 Working together with Dr. Mark Deakos from Hawaii Association of Marine Mammals Education and Research (HAMER), a photo-ID database has been created.
We learned the importance of participating in the conservation of our marine ecosystem.
The rays are being indexed, sightings tracked and these events are being put into a custom management tool that has already helped draft legal regulations and guided other conservation efforts for Yaps big animals.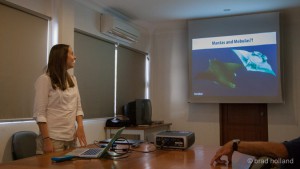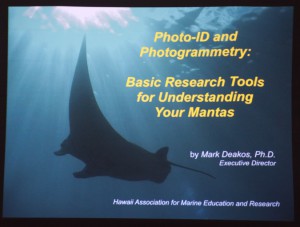 Ana Filipa Sobral brought us into the big world of mobulas and introduced her work, data and research methods in the field.
Each day included a special workshop after diving, usually over ice cold beers.
Citizen Science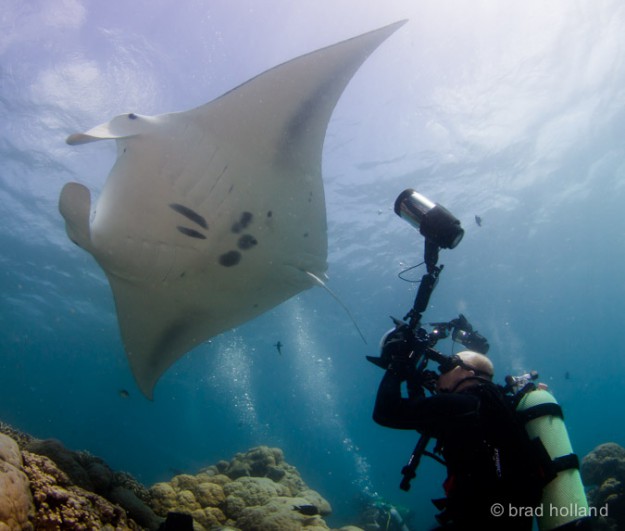 Learning about manta rays in the evening, then diving with them in the morning made each dive more interesting.
We learned to identify the gender, pregnancy, maturation as well as look for signs of recent mating.
Everyone took part in data collection – photo-IDs were taken along with measurements and animal counts as well as exploration dives to possible new manta ray feeding or cleaning sites.
This event is scheduled during manta mating season which guarantees multiple animal interactions, aggregations and more behavior.
Best of Yap Diving
The dive package scheduled 16 dives that included our specialty shark dive, mating manderinfish and night dives. We had mantas, and everything else Yap has to offer. Blue water wall diving turned up pelagic encounters and the local mini wall entertained us with fun macro.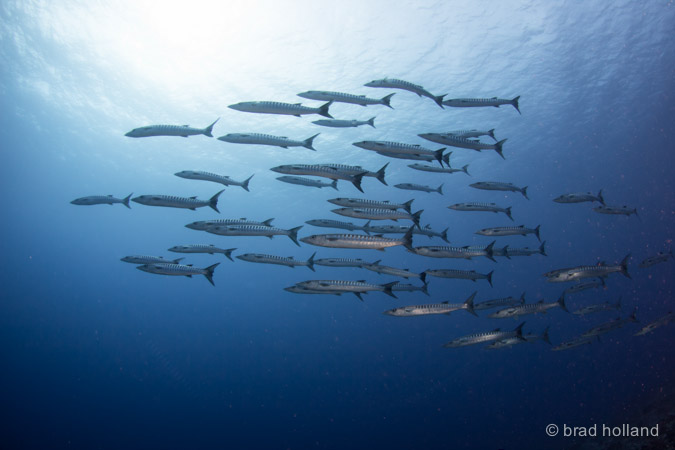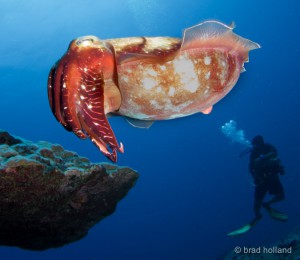 We also learned that it's cuttlefish mating season, the reef was full of them in pairs – one dive had six cuttlefish encounters in it – full moon diving turned out some rich encounters this week.
In between sharks and cuttlefish we threw a surface interval picnic in a village.
Each day was carefully designed to get a little more island and nature in the experience, Yap's undeveloped setting creates a unique relaxing ambiance to make friends and enjoy a day.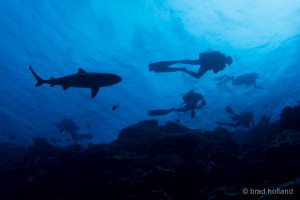 Research diving was part of the deal where we were going on explorer dives in areas that could be suitable for big animal cleaning, feeding or mating.
We came up with zero mantas, but did have a hammerhead shark buzz our group. Great news for diving Yap, hammerheads are territorial, we may have a new resident juvenile on our Pacific reef.
After two morning science dives our group off-gassed next to some stone money on the water's edge in a Yapese village. Lunch was delivered and the boats and gear refreshed for a third tank before happy hour and afternoon workshop.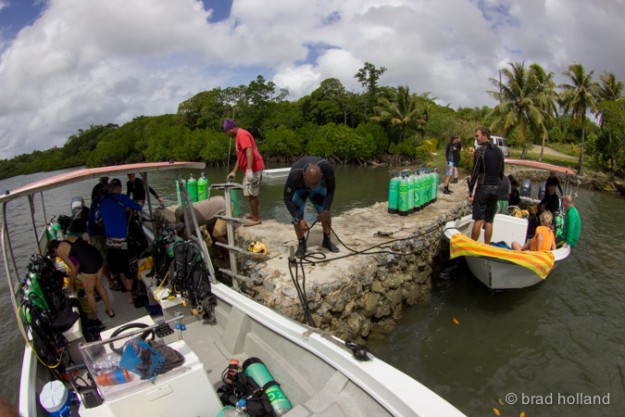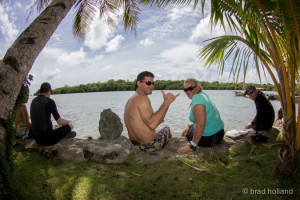 This is how the days went – mixing fun diving, conservation, island life and hanging with like-minded people in paradise.
The Manta Ray Bay Experience
We threw a wrap party on Manta Ray Bay's private beach after eco, culture and land tours on the non-dive day.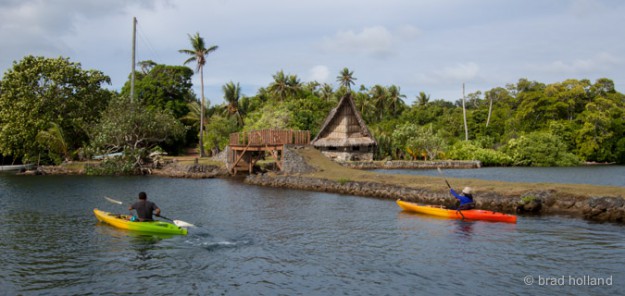 Yap is unique and is a great venue for customizing a special event. Bill is getting ready to throw a 30th birthday party for his operation and he's still diving and partying with his guests.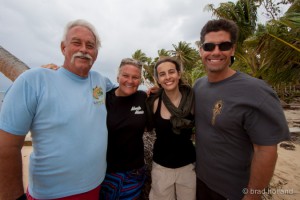 Kegged beer, bottled wine, fresh coconuts and soft drinks backed the bbq buffet on a cliche gold sand beach at our private party.
A very successful event with room to grow, stay connected for updates and package deals for Manta Mania 2015.