I'd like to be Under the sea – Bill's Update #12
Divers within a certain age bracket, but also music lovers from younger generations for sure know the Beatles' song "Octopus's Garden" that was released in 1969.
I'd like to be
Under the sea
In an octopus' garden
With you
Those lyrics express the feeling I had when I was finally in the water again. Oh, how I have missed it. Needless to say, I was thrilled to receive a request from the FSM Fisheries & Maritime Institute to certify 6 of their instructors to become SSI open water divers. Due to their diligent commitment on the theory part, which they all did online, we were able to move on to the pool sessions quickly. Being back in the pool, teaching people that are eager to pick up this wonderful sport and taking them for their first dives was a truly wonderful experience after being in this lockdown for 18 months now.
I hear you saying, "you can go diving every single day if you want to". True, but it's just not the same as diving with divers who have traveled to Yap specially to discover our marine wonders, or as in this case, with local professionals that show so much enthusiasm when being taught this amazing sport, which has given my family and I so many friends.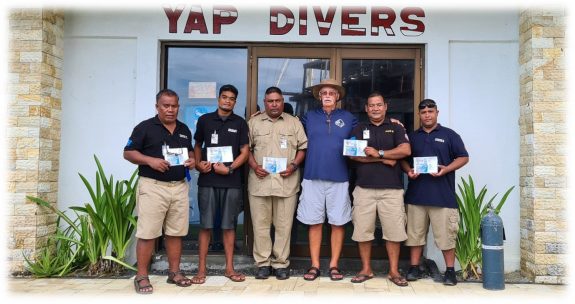 Proud students and instructor
It gets even better. You might remember the marine biology program we have been hosting the past 3 years for students at Yap's Catholic High School. Thanks to the dedication and work of Julie Hartup's Micronesian Conservation Coalition her Marine Island Ecology Course is taking place again this Summer. While the online kickoff took place on July 1st, the first field trip hosted by us took place last week. After the mandatory swim test, we took the students for snorkeling trips in the sea grass beds and the coral gardens of Slow and Easy. The next time we met, we snorkeled in the mangroves and the coral gardens of Gabach Channel. Upon completion of the drift in Gabach, we took them on a plankton tow in Gabach as well as one in the main channel. More field trips will follow and obviously we'll share the experiences of these wonderful young people, who are so eager to learn about the ecology of their island.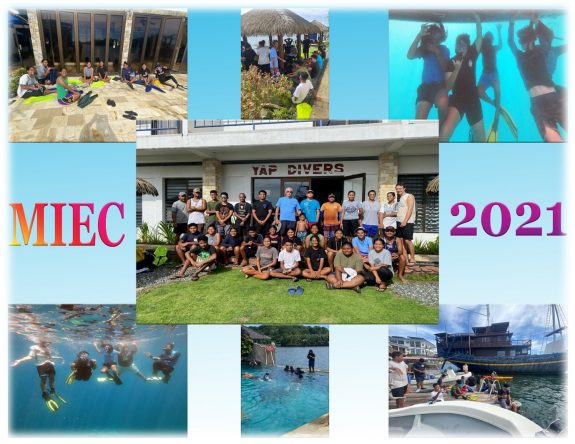 Always great to teach and show our local youth about Yap's rich and diverse marine life
We're getting close to reason #10 for not coming to Yap, but before sharing #8 with you, let's "refresh" your memory on the first 7 reasons not to come to Yap.
"Reason #1 Not to come to Yap"
If you like crowded dive sites, don't come to Yap. … with barely 1,000 divers a year visiting Yap, all dive sites are exclusively for you and your dive buddies.
"Reason #2 Not to come to Yap"
If you are looking for long boat rides to get to the dive sites, don't come to Yap.
"Reason #3 Not to come to Yap"
If you don't like to discover and encounter a wide range of marine life during your dives, don't come to Yap.
"Reason #4 Not to come to Yap"
If you don't like that your room, the dive shop, the dive boat dock, the bar/restaurant, and all other facilities are within a maximum of 2 minutes "walk", don't come to Yap.
"Reason #5 Not to come to Yap"
If you want to limit the type of dives you like to do, don't come to Yap.
"Reason #6 Not to come to Yap"
If you want to be on an island full of nightlife, casinos, discos, and high-traffic tourism areas, don't come to Yap.
"Reason #7 Not to come to Yap"
If you don't like mantas, don't come to Yap.
Reason #8 "Not to come to Yap"
If you don't want everyone, from your housekeeper to your waiter, to know you by your first name and care for your needs, then don't come to Yap."
While it's easy for us to list "10 reasons not to come to Yap" we would like you to submit your own reason and from the most original submissions we'll select the #10 reason. The "winner" will receive a gift from us. Please click here to submit your suggestion!
No news is good news. King James I of England is credited with first expressing this sentiment in his writings in 1616: "No news is better than evil news." The idiom no news is good news was extrapolated from this phrase within 30 years.
Let's hold on to King James' wisdom when updating you about the current situation on Yap and in the FSM. Pohnpei has repatriated some 300 stranded citizens and Yap has finished its quarantine facility which is essential to start the process of bringing stranded Yapese residents home. We have received the first requests from a couple of essential technicians who are planning to come to the island soon to carry out work that has been stalled for 18 months now. They will be required to quarantine at the designated quarantine facility, but after the quarantine period is over, they will be free to go around the island. Baby steps, but there is progress. The answer to the question "when" is still unknown. We are hoping for the first quarter of 2022, but a lot depends on developments in other parts of the world, especially with respect to new variants like the Delta string. Another positive development is that vaccination of the outer islands population is in full swing.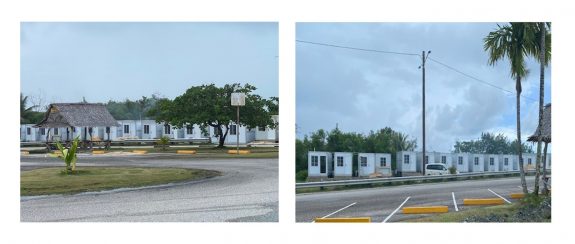 They got already nicknamed "the quarantine barracks", but we're all happy that with this facility the repatriation of stranded Yapese can start
Parting Shot
Father Murphy walks into a pub in Donegal, and asks the first man he meets, 'Do you want to go to heaven?
The man said, 'I do, Father.'
The priest said, 'Then stand over there against the wall.'
Then the priest asked the second man, 'Do you want to go to heaven?'
'Certainly, Father,' the man replied.
'Then stand over there against the wall,' said the priest.
Then Father Murphy walked up to O'Toole and asked, 'Do you want to go to heaven?'
O'Toole said, 'No, I don't Father.'
The priest said, 'I don't believe this. You mean to tell me that when you die you don't want to go to heaven?'
O'Toole said, 'Oh, when I die, yes. I thought you were getting a group together to go right now.'