Frank Schneider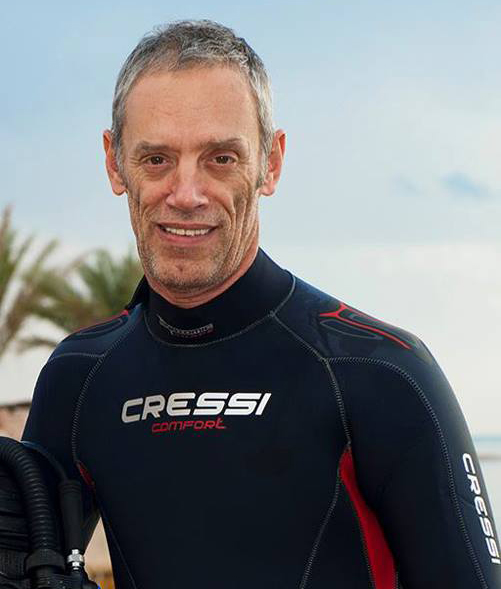 Born in December 1958, Frank grew up in the western part of Germany close to Düsseldorf. His fascination with oceans and marine life grew while watching Jacques Cousteau's TV series "The Undersea World of Jacques Cousteau" together with his Grandmother. As their family lived far away from any sea, his Grandma saw the ocean only once in the late years of her life. Young Frank decided that one day he would explore the underwater world and show his family photos from below the surface.
After years of working in military aviation, where he increased his skills in the English language, Frank married in his mid-twenties. His wife Ursula soon shared his passion for the underwater world and since then is featured as an underwater model in many of his images.
His first article was published in 1983, which eventually turned out to be the starting point for Frank's career as a travel journalist. His articles have been published in many countries, including Italy, Spain, England, Norway, Denmark, the Netherlands, Austria, Switzerland, Russia, Turkey, and Croatia.
Together with their friend Leda Monza from Milano, Italy, who also became one of his uw-photo models, Frank learned to speak Italian while co-writing with Leda, the "Encyclopedia of Diving" in Italian. Books of Frank (dive travel guides, encyclopedia, U/W-photo school, and many more) are published in Germany, Great Britain, and in cooperation with Leda also in Italy.
Since 2015, together with his friend and colleague Paul Munzinger, he is the publisher and editor of the German Online magazines www.divingeurope.de and www.diving7seas.de. Both magazines have produced a Special Edition on Yap and Manta Ray Bay Resort & Yap Divers in English. It can be downloaded for free at https://joom.ag/sina
For his job, Frank uses two digital Nikon-SLR-cameras, a Nikon D850 and a Nikon D3X as well as several original Nikon lenses. Those Nikon lenses range from a 16 mm fisheye up to the tele zoom VR 70-200 mm, all of which have a 2.8 f-stop. For his U/W photography, the Nikon D850 in a Seacam housing together with the Nikon f2,8/16 mm fisheye lens, the f2,8/14-24 mm wide-angle zoom from Nikon, and the Nikon 60 mm and 100 mm macro lenses are Frank's standard photography equipment. One or two Seacam Seaflash 150 TTL strobe lights take care of light and color.
I met Frank because I have been fortunate to exhibit at the massive German BOOT Show in Düsseldorf every year for the past 30 some odd years. Early on, I would stand in my booth and ogle all the famous people walking the isles and when I would walk around, I would see even more famous people in their booths. A common sight was one guy, with a massive camera, running around like crazy taking pictures of everyone. I was always a bit envious and hopeful that one day I would be well enough known in Europe for him to stop and take my picture. I finally got up the nerve to ask someone who he was and was told "that's Frank Schneider, the photographer for Tauchen Magazine" (the largest in Europe at the time). One day in about 2009 or so, the timing was just right that Frank was taking a picture of someone in our booth and I was introduced to this stalwart of photography. Turns out he was and is a great guy and we hit it off immediately. Shortly Frank was sent to Yap to do a feature story on the island, and our diving, by the editors of Tauchen. We spent two weeks diving Yap together and our friendship has grown with each passing year.